Joiking the northern lights
THE SOUND OF THE SAMI IN EUROVISION 2019
from https://www.visitnorway.com/
The Sami rapper Fred Buljo only practised joik in secret while riding his snowmobile in Northern Norway. In 2019, he brought joik and the northern lights to the world's largest song contest.
KEIINO. PHOTO: JULIA MARIE NAGLESTAD / NRK
The sound of the Sami in Eurovision 2019
The sound of joik is like the sight of the northern lights. Sami rapper Fred Buljo describes it as "Magical!" For the Eurovision Song Contest 2019, Buljo teamed up with singer Alexandra Rotan and singer-songwriter Tom Hugo to form the band KEiiNO, which is named after the Sami city Kautokeino in Northern Norway.
Their song "Spirit in the Sky" is in English except for one Sami sentence: "Čajet dan čuovgga" means "show me the light", and the whole song is about the inside struggle many people feel when it comes to ethnicity, sexual orientation or other similar topics. The message is that you should be able to live openly whether you are gay, Sami or whatever. Fred's bandmate Tom has already stated that Norway is the best place in the world for minorities. KEiiNO ended up on a fifth place in the final in Tel Aviv and were actually clear winners in the public vote that count for 50 per cent of the final result.
The Eurovision Song Contest has also made Fred conscious of the fame the joik is experiencing: "People in Europe know much more about joik than we think", he says, and mentions cities as diverse as Madrid, Riga, Amsterdam and London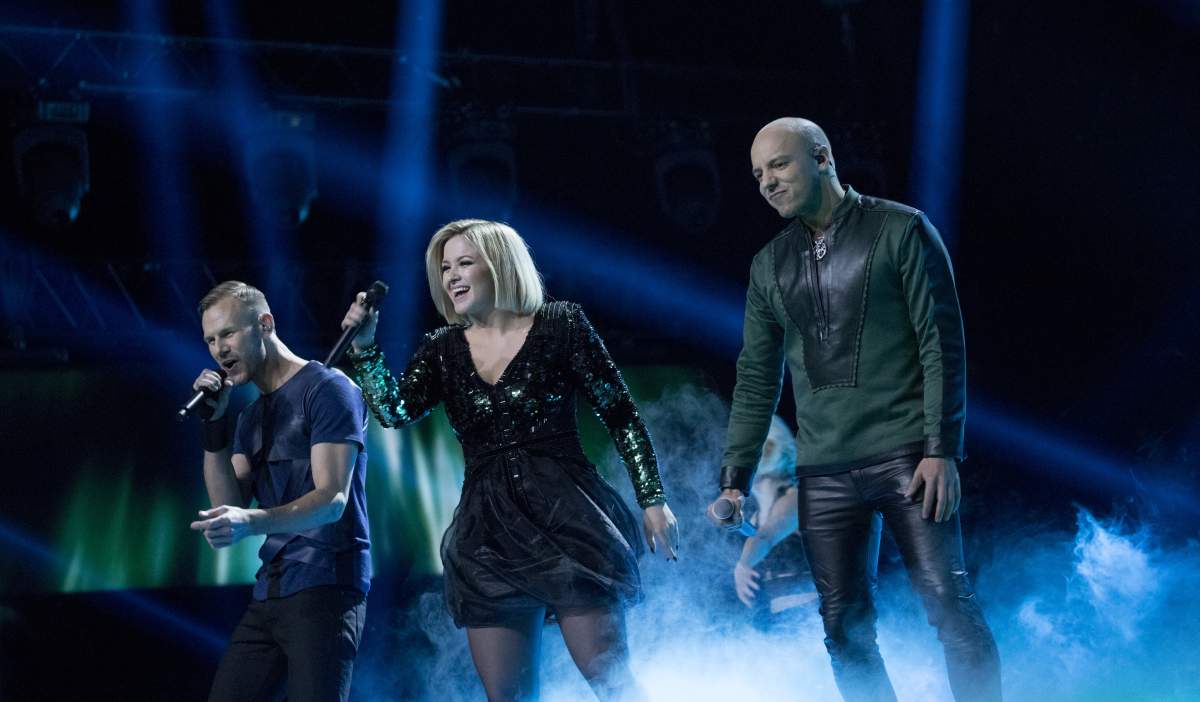 KEIINO PERFORMING AT MGP 2019.
PHOTO: JULIA MARIE NAGLESTAD / NRK
"Joik was around me all the time when I grew up in the Sami society", Fred says. "But I never fully understood the value. I can't say that I have owned the musical expression of joik – until now."
In his teens, Fred was only playing with joik until some of his friends told him that he is voice was fit for it and encouraged him to develop it further.
He secretly started practising in his room and when driving his snowmobile on the nearby Finnmarksvidda mountain plateau. Ten years passed before he dared to debut with joik – in the Eurovision 2019! The decision has made him world-famous.
Now, he feels that both younger and older audiences are starting to take the joik back, and he is amazed by the fact that some are debuting with joik at the age of 50. "The last 20 years we have experienced a new wave of joik. Now it's trendy."
So, can one start to joik without a Sami background?
"It's up to you to decide. You can't just throw out some tunes in a loud voice. You have to unfold your soul and understand the magic. You can't simulate joik; it must be a part of you. That's why I spent ten years making joik my own and mixing it with pop and electronica."
Few people outside of Norway know that Fred has also been part of the Sami rap group Duolva Duottar for a decade.
Fred also thinks that ancient cultures must be renewed to survive, and he refers to early recordings to prove that the joik has always been in development. "For a long time, I didn't dare to perform joik in public. Now, I've made it, and I am proud to contribute to the continuity of the joik."